TOPICS
2022.09.10
The Psychological Effects of Migraines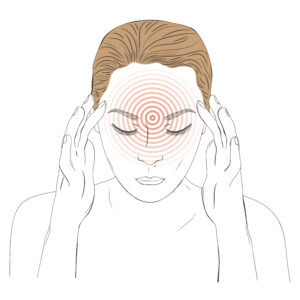 This time of year, many typhoons occur. Recently, Typhoon No. 11 was in the news a lot. When a typhoon approaches, the atmospheric pressure drops rapidly. These changes in atmospheric pressure can trigger migraines [1].
As a migraine sufferer, this time of year when the atmospheric pressure changes rapidly is difficult for me because headaches occur frequently.
Many people feel that their mood is different from usual before and after the pain or have anxiety about when the pain will come again.
Today I want to discuss the intimate relationship between migraines and psychological conditions.
Why do migraines occur?
The cause of migraine pain is not yet clearly understood. Past research has shown that neurotransmitter and hormonal abnormalities and inflammation of blood vessels and nerves can be found in migraine headaches [2].
Examples of the Psychological Burden of Migraine
Studies have shown that migraine sufferers are more likely to be subsequently diagnosed with depression [3]. Depression is likely to be triggered by stress. Some researchers believe that the stress and the disruption to life that pain causes may increase the risk of developing the condition [4].
Furthermore, data have been published showing that about half of those who have both depression and migraine headaches experience more headache pain than average during and immediately after the depressive period [5].
How can we reduce migraine pain and the psychological burden it brings?
The fact is, "It's going to hurt again…" or "Another migraine, will I be OK?" and concern or anxiety about the pain can increase the severity and painfulness of the pain [6,7].
Instead of trying to get through it on your own, why not consult with people around you, a doctor, or a psychologist? If they understand the pain of migraines and how they interfere with your life, and if they can support you in some way, you may be able to spend your time feeling a little better. As for psychotherapy, cognitive-behavioral therapy has been shown to be effective in treating the frequency of headaches and the obstacles in your life, [8] so why don't you consult with her once?
 
[1] Kimoto, K., Aiba, S., Takashima, R., Suzuki, K., Takekawa, H., Watanabe, Y., Tatsumoto, M., & Hirata, K. (2011). Influence of Barometric Pressure in Patients with Migraine Headache. Internal Medicine, 50(18), 1923–1928. https://doi.org/10.2169/internalmedicine.50.5640
[2] Gasparini, C., Sutherland, H., & Griffiths, L. (2013). Studies on the Pathophysiology and Genetic Basis of Migraine. Current Genomics, 14(5), 300–315. https://doi.org/10.2174/13892029113149990007
[3] Modgill, G., Jette, N., Wang, J. L., Becker, W. J., & Patten, S. B. (2012). A Population-Based Longitudinal Community Study of Major Depression and Migraine. Headache: The Journal of Head and Face Pain, 52(3), 422–432. https://doi.org/10.1111/j.1526-4610.2011.02036.x
[4] Swanson, S. A., Zeng, Y., Weeks, M., & Colman, I. (2013). The contribution of stress to the comorbidity of migraine and major depression: Results from a prospective cohort study. BMJ Open, 3(3), e002057. https://doi.org/10.1136/bmjopen-2012-002057
[5] Hung, C.-I., Liu, C.-Y., Juang, Y.-Y., & Wang, S.-J. (2006). The Impact of Migraine on Patients With Major Depressive Disorder. Headache: The Journal of Head and Face Pain, 46(3), 469–477. https://doi.org/10.1111/j.1526-4610.2006.00378.x
[6] Roy, M., Lebuis, A., Peretz, I., & Rainville, P. (2011). The modulation of pain by attention and emotion: A dissociation of perceptual and spinal nociceptive processes. European Journal of Pain (London, England), 15(6), 641.e1-10. https://doi.org/10.1016/j.ejpain.2010.11.013
[7] Loggia, M. L., Mogil, J. S., & Bushnell, M. C. (2008). Experimentally induced mood changes preferentially affect pain unpleasantness. The Journal of Pain, 9(9), 784–791. https://doi.org/10.1016/j.jpain.2008.03.014
[8] Bae, J., Sung, H.-K., Kwon, N.-Y., Go, H.-Y., Kim, T., Shin, S.-M., & Lee, S. (2021). Cognitive Behavioral Therapy for Migraine Headache: A Systematic Review and Meta-Analysis. Medicina, 58(1), 44. https://doi.org/10.3390/medicina58010044
トピックス一覧へ戻る